Get the job done right with Bencardino Excavating!
See How Bencardino Projects Are Setting The Standard...

A long track record of successful projects, larger footprint excavating capabilities, competitive pricing, a commitment to working safely, and quality workmanship. When you hire Bencardino Excavating with our ability to handle all aspects of your sitework, and possessing decades of experience, you will keep your project on schedule and eliminate delays and change orders that are common when hiring multiple contractors for your project.


An Excavating And Sitework Contractor You Can Count On...
Bencardino Excavating has thirty years of experience providing diversified, highly dependable excavating and sitework contracting. As an excavating and sitework contractor, our capabilities allow us to handle all aspects of your project; large or small in a professional, and organized way.

---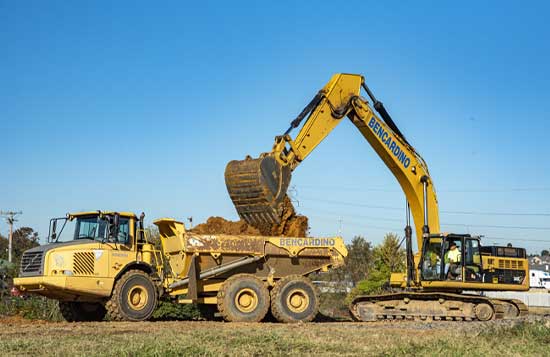 Bencardino Excavating has a fleet of heavy-construction equipment, a team of over 80 professionals and the experience to see through any sitework project from start to finish. Our team will bring your project in on time and within budget.

Bencardino's capabilities include: demolition, clearing, excavation, grading, underground utility installation for fire, storm, water and sewer, concrete, paving and emergency services.

Bencardino Capabilities →